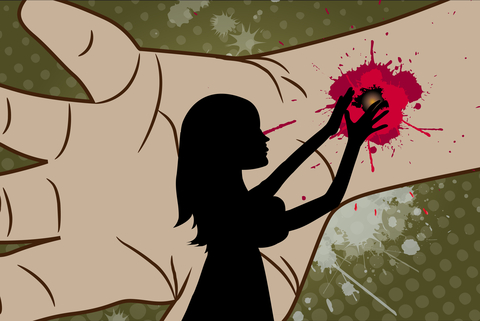 When I returned to the Church many years ago, I had very gloomy image of Lent.  In particular, I perceived Lenten sacrifices as something very negative, something to dread. I am grateful that my spiritual director helped me understand Lenten sacrifices in a relational way.  This was a huge game changer for me.
He explained that quite often our attachments to things or behaviors are getting in the way of our relationship with others, including God. So we make a special effort during Lent to put aside these attachments so they don't distract us from caring for ourselves and our relationships.  This dying to the self is a practice that we will continue for our entire lives, but Lent is a good time for a special "house cleaning"; we can pause and really look at where we are with God.
Of course, Lenten sacrifices are also a means to charitable giving.  Traditionally, Christians abstained from meat during Lent partly so that they could use the money they saved on meat to give to the poor, to those who couldn't afford meat.  I think we've lost this original meaning in Catholic culture, so that others see us as a self-punishing, masochistic bunch.
So over the years and across many Lents, with my own kids I try to remind them of this deeper meaning of Lenten sacrifices.We sacrifice things that are hurting our relationships or are preventing us from growing closer to God, and we can also use the money we save on desserts or toys to meet a need in our community.
If our kids are too young to understand this concept, I wonder why we are encouraging them to give up desserts or their toys.  My concern: If our primary explanation to our kids for Lenten sacrifices goes something like "Jesus suffered, so we want to suffer with him," I wonder if we are sending an unfortunate message to them. Are we saying that Jesus wants them to suffer because he suffered? I think I had this impression as a child and as a young woman and that is why my first Lent after returning to the Church was not liberating in the way it is for some folks.
While identifying with the suffering Jesus is a spiritual goal for all Christians, I am wondering whether framing Lenten sacrifices as the seeking of solidarity with the suffering Jesus is the best place to start with small children. Some of you will disagree with me here, and I welcome your opinions (but please be polite . . .).  But as I consider my own spiritual life I can see that I, even as a grown-up, am still moving to that place spiritually where I want to identify fully with the suffering Christ. That is at the top of the spiritual maturity ladder and I'm nowhere near that.
One of my goals as the spiritual director of my kids is to help them love Jesus more, to draw closer to him, to want to know him as a real person who cares about them. Yes, I hope they eventually love Jesus enough to die for him on their own cross, but they are still young. I think that first I need to lead them to love God and to recognize that he loves them so much he continually invites them into friendship. I don't want them to think they need to seek out pain in order to be a good Christian, because right now I don't think the pain will make them love Jesus more.  Actually that seems kind of messed up to me.
The fact is, life brings with it suffering. Ordinary life gives me plenty of opportunity to teach my kids about offering their sufferings to God. I don't want them to seek out suffering or to think in some way that they need to want suffering in order to be a good Christian.
Perhaps I can do with my own little directees as my spiritual director did with me when I returned to the Church: I can talk to them about the things in their lives that are making it harder for them to love themselves, other people, and God. I can lead them in love, with gentleness, to practice little sacrifices in these areas. But I would still want to teach this in the context of their growing affection for Jesus.