"Give me an army saying the rosary, and I will conquer the world!"

Pope Blessed Pius IX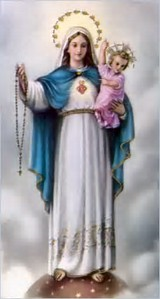 October is the Month of the Holy Rosary!
Yep, the Church devotes a whole month to the rosary, one of the most popular and quintessentially Catholic spiritual practices. If you have been thinking of starting a family rosary but you're worried it just won't work with your family, or if you are just curious about the devotion, this month I will share some tips and insights with you.
My Rosary Confession
Have you tried praying the Rosary with your kids and it didn't go very well? Perhaps your toddler whipped the beads around her neck like a hula-hoop or your tween asked incessantly, "Why are we doing this?" Or maybe you aren't really wild about the rosary yourself, and you can think of 100 other things you'd rather do.
I've been there. To be honest, I didn't always like the rosary. In fact, for a long time I would pray the rosary with my children only because I thought it was the right thing to do since we were Catholic and all. I wanted them to have a strong Catholic identity, but I didn't really love praying it. Too frequently I would find my mind wandering while we were praying it. "Why's that sock underneath the t.v. stand?" What am I making for dinner?" "How many more beads to go?" "I think I have an eye infection." My own ambivalence about the rosary helped my compassion for my squirrely but well-meaning kids who tended to do things like hang upside down off the couch while holding their prayer beads.
However, over the last few years I've developed a strong devotion to the rosary, and I've experienced personally the power and the graces that flow from praying it faithfully. I realize now that I didn't understand it, and I certainly didn't appreciate its history and graces. Now it's by far my favorite devotion – without rival, and I pray it nearly every day. My passion for the rosary has affected my own children's reception and experience of the spiritual practice.
Given my own path, I have a soft spot for parents who want to WANT to pray the rosary but feel uninspired or anxious about how to do it with their children. I've gained some insights into how to institute the practice of the family rosary. During this Month of the Holy Rosary, I'll post some articles about what I've learned.
The Basics
For those of you who are new to the Church or who didn't grow up with the rosary, let's start with the very basic basics!
The rosary is a Catholic devotion which uses prayer beads and a series of prayers: the Apostles Creed, followed by the Our Father and a series of 10 Hail Marys (this is called a decade). There are 5 decades in the most commonly prayed rosary. In between each decade, you say a "Glory Be" and at the end of the 5 decades, you pray the "Hail Holy Queen".  You pray one prayer on each bead; after each prayer, you move on to the next bead and the next prayer. Small children seem to like the rosary because they know most of the prayers and they like feeling the prayer beads.
Here is a helpful image of the beads and the prayers prayed on each: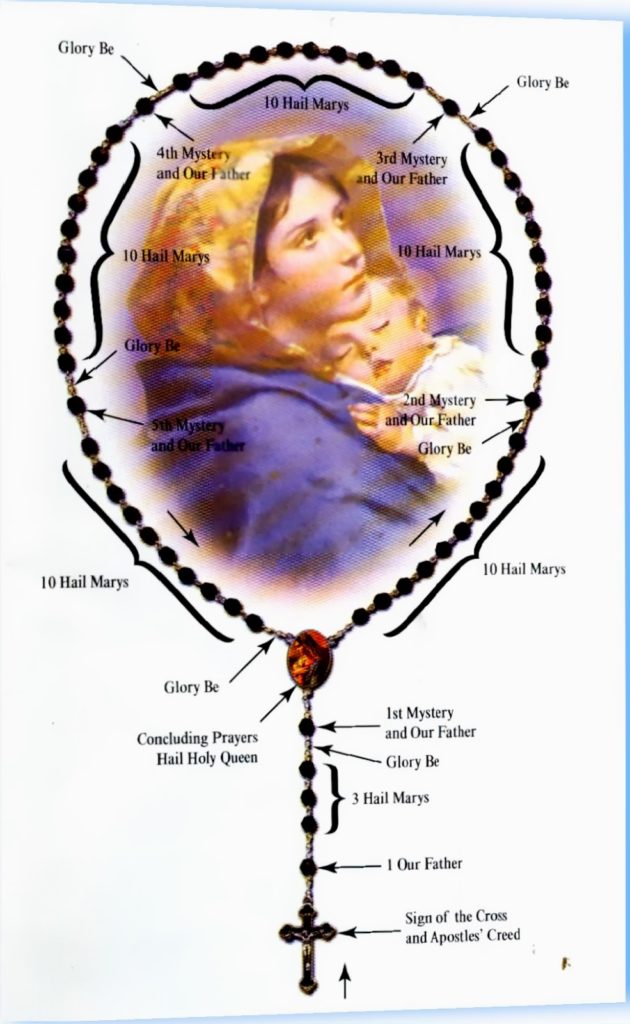 The rosary prayers are usually paired with one of 4 Mysteries which focus on some aspect of Christ's life, death, resurrection, and glory.  You meditate on these Mysteries while praying. So the point of praying the rosary isn't just saying the prayers; we also meditate on these moments in salvation history.  This is why John Paul II said, "The rosary, though clearly Marian in character, is at heart a Christocentric prayer. In the sobriety of its elements, it has all the depth of the Gospel message in its entirety." You can pray all the 4 Mysteries in one go (that would be 4 full rosaries), or you can do as most folks do an pray just one set of Mysteries a day.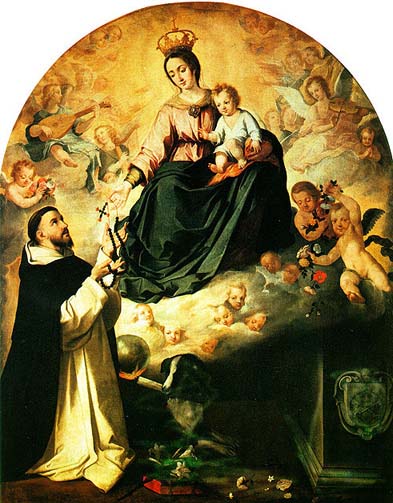 The rosary has been around a LONG time. I read a fascinating book recently by Fr. Donald Calloway about the history of the rosary. The rosary as we know it (the 5-decade Dominican rosary) started with a Marian revelation to St. Dominic, but a form of the rosary had been in practice even before that. It's believed that the laity began praying the rosary as a way to emulate the monks who prayed the Psalter each day. The laity could not read or they didn't have access to the Psalms, but they knew the Our Father so they would pray 150 Our Fathers instead of the 150 Psalms. The beads were used as a way to keep track of their prayers. Eventually the Hail Mary was added.
But perhaps folks who have questions about the rosary are far less interested in where the prayer comes from or how it works; they are more interested in knowing why they should start at all. Many may wonder why they would say the same prayer over and over again. Isn't that mind-numbingly boring? Suitable only for little old ladies with extra time on their hands?
Absolutely not.
First, while we do say the Hail Mary 10 times for each decade, we meditate on a different Mystery each time. We use our imagination to enter into that Mystery so that we understand it better and so that God can reveal truths to us about it.
Second, people from many backgrounds of all ages report that praying the rosary faithfully has led to many graces, transformation of character, and unexpected blessings. Many of our greatest saints, including Pope John Paul II and Padre Pio, prayed the rosary every day. Saint Francis de Sales said the rosary is the greatest and most powerful method of prayer. The rosary is a treasure to be discovered by everyone, at every age, at any time in history.
Just START
If you want to try praying the rosary with your family, just start. October 7 is the Feast of Our Lady of the Rosary, so perhaps you can make it a special rosary day.
Your family doesn't have to do it perfectly or resemble a gathering of monks. Just grab a rosary and gather your children. If you imagine your children sitting like angels with hands folded together reverently with their rosaries dangling between their palms, you have probably seen one too many Catholic stock photos. You know the reality of living with HUMAN children is very different from the ideal we get into our heads sometimes. It's okay if your kids are wiggly, ask questions in the middle of the prayers, or suddenly remember a story about your dog in between decades. This is life with children. You have to live in the moment, not in a fantasy. If you expect too much of your kids in the beginning, you may never start – and that would be a shame.
So my big message in this post is JUST START. Start where you are and where your kids are.
Resources to Get Started
If you don't know the prayers or the format, there are many resources to help you get started.  The Rosary Center has a free on-line tutorial on how to pray the Rosary. You can try reading a reflection on the Mysteries before each decade, or, if necessary to get the boat out of the harbor, just prayer the Our Father on a single bead and 10 Hail Marys. Then have hot chocolate. This is what I did when I first started praying the rosary regularly with my kids. We would just pray 1 Our Father followed by 10 Hail Marys. Then, later, we added the reflection. Then we added a scripture reading before each decade. Then we added a prayer after the decade. After a while, we prayed TWO decades. Then THREE, etc.  Our Lady and her son treasure every prayer.
I do have some favorite books to recommend for praying the rosary with children. I like using books with illustrations for the children to ponder while praying:
A Rosary for Children (Almada). This is my all-time favorite book to use while praying with all my children, including my teens. There are some typos, but the illustrations are beautiful and the presentation is deep enough for older kids without being too difficult for younger children to understand. This book received the Imprimatur and the Nihil Obstat.
Praying the Rosary with Mary (Burrin). Small children.
A Child's Guide to the Rosary (Fiocelli) Elementary-aged children.
Amazing Love: Rosary Meditations for Teens (Seaburg) Middle school and high school children.
Behold Your Mother: A Teen Girls' Reflections on the Holy Rosary (Belle-Oudry) Teen girls. I just bought this for my teen daughter and it looks wonderful. I will ask for her feedback in a few weeks.
More rosary inspiration to come! Next time I'll share the 15 promises of the Holy Rosary!