"Give me an army saying the rosary, and I will conquer the world!"

Pope Blessed Pius IX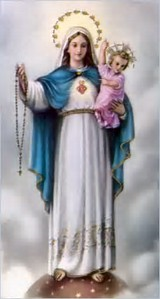 October is the Month of the Holy Rosary!
Yep, the Church devotes a whole month to the rosary, one of the most popular and quintessentially Catholic spiritual practices. If you have been thinking of starting a family rosary but you're worried it just won't work with your family, or if you are just curious about the devotion, this month I will share some tips and insights with you.
My Rosary Confession
Have you tried praying the Rosary with your kids and it didn't go very well? Perhaps your toddler whipped the beads around her neck like a hula-hoop or your tween asked incessantly, "Why are we doing this?" Or maybe you aren't really wild about the rosary yourself, and you can think of 100 other things you'd rather do.
I've been there. To be honest, I didn't always like the rosary. In fact, for a long time I would pray the rosary with my children only because I thought it was the right thing to do since we were Catholic and all. I wanted them to have a strong Catholic identity, but I didn't really love praying it. Too frequently I would find my mind wandering while we were praying it. "Why's that sock underneath the t.v. stand?" What am I making for dinner?" "How many more beads to go?" "I think I have an eye infection." My own ambivalence about the rosary helped my compassion for my squirrely but well-meaning kids who tended to do things like hang upside down off the couch while holding their prayer beads.